TimeLapse Photography - All Weather
Cameras Designed for Construction in Calgary
With up to 24 million pixels, and interchangable lenses, our Nikon Reflex Cameras (D3000, D3100 and D3200) provide excellent professional quality and withstand Canadian climates
Now you can offer access to trades, clients & investors so they can keep up with your construction project progress.                                       
Affordable Pricing Options
From custom homes to the most prestigious construction projects, we offer different solutions to make it simple. We will work with you to find the perfect solution.
Powerful Technology that Delivers
HD photos from your site are automatically uploaded to our 24/7 dashboard which allows you the ability to stay connected to the site at any time.  At the end of the project or at intervals of your choice, we will compile all of the photos to create a professional HD timelapse video to showcase the major highlights on the project. This solution is ideal for tracking construction progress.
In addition, we provide a public interface that can easily integrate with your website to keep all stakeholders in the loop.  You can even take pictures remotely from the dashboard at any time if there is a specific shot that you required. If required, we can make the timelapse solution completely private and secure.  Timelapse is a great marketing tool for construction projects and indoor retail transformations.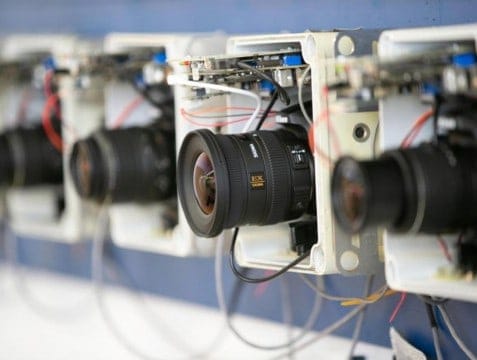 Timelapse Videos Made Ridiculously Simple
OTBx Air Calgary provides solar-powered, fully autonomous, photo camera boxes equipped with a DSLR camera to take 500+ photos each day to capture time lapse photography for your site.
Using a 3G/4G network, the onsite timelapse camera will stay connected to our dashboard and transmit still images on a regular basis every single day. Our technology is engineered for Canadian climate and can withstand harsh winter conditions, extreme cold and snow and ice build up.
Live Construction Timelapse Samples
We integrate all the steps of your construction site monitoring project: Evaluation of the best view point – Installation and maintenance of the photo timelapse boxes – remote on-site tracking and promotional video editing (Timelapse).
Our cameras are wireless so they require no main electrical supply connection as they are fully solar powered.  The photo timelapse cameras can be installed in the most inaccessible places to offer the best view points. Roofs and lamp posts are ideal set up locations.

Our Calgary audiovisual technicians suggest the best viewing angle options from your maps or tracking on the ground. They analyze the technical constraints of the installations, respecting the necessary authorisation process for the project.

We install and ensure the maintenance of our photo webcams for the whole duration of your project. Included in our offer, an anti-theft guarantee of our webcams, and we have civil liability insurance specific to our activity.  When the project is complete, simply let us know so we can deactivate your camera and stop the billing process. When you're ready for your next project, just reach out and we will be happy to help re-install on another site.
Let's show off your projects like never before 
with Calgary's best timelapse technology