360 Tour | RMS MEASUREMENTS | FLOOR PLANS
REVOLUTIONIZing virtual tours & FLoorplans in Calgary
iGUIDE Virtual Tours have become the number one service for Calgary real estate agents are using to market properties.
iGUIDE virtual 360 is great for a wide range of different industries in Calgary, Alberta.  It's the perfect way to gain more visibility, drive traffic and convert online viewers. 
With an engaging 360 virtual tour, spectacular property photos, detailed floor plans, area calculations, room measurements, and neighborhood information, buyers don't just see a home, they immerse themselves in it!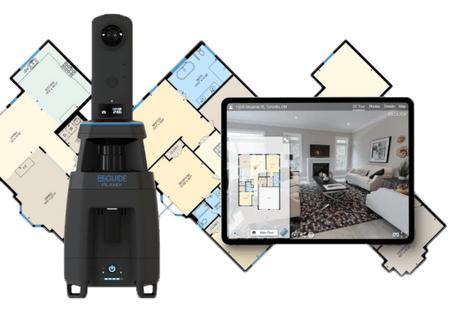 OTBx Calgary's iGuide Features
iGUIDE is a listing platform for Real Estate professionals in Calgary to share the information buyers are looking for when searching for a home.
Our iGUIDE Report is what you receive once your report is ready. It includes 3D tour links, professional images, property details, and easy-to-embed code. In it you will find all of the links, downloads, and tools you need to list your property.
iGUIDE Analytics provides valuable call-to-action insights focused on where your listing is getting the most traffic and by whom. Leverage these to help you make strategic decisions. We focus on providing you with the information you need; so that you can focus on closing the deal.
OTBx will reach out to you to provide more information on the service and schedule an appointment.
Once the service is scheduled, an OTBx Calgary tech will be assigned. 
The scanning duration will vary depending on the size of the house but once the house is fully scanned, OTBx Calgary will be able to provide the results in 24 hours.
The iGuide scans come in different formats (can add property/Realtor info and/or embed into the listing website)
OTBx will reach out to you to provide more information on the service and schedule an appointment.
Once the service is scheduled, an OTBx tech will be assigned. 
The scanning duration will vary depending on the size of the house but once the house is fully scanned, OTBx will be able to provide the results in 24 hours.
The iGuide scans come in different formats (can add property/Realtor info and/or embed into the listing website)
Get the Perfect Package
for You
PHOTOGRAPHY, VIDEOGRAPHY & 360 TOURS